had been 254 days wiithout you
Sometimes i do wonder,
is it a good thing to not being in touch?
yea,i do miss u, i wanna hear frm u but i'm afraid to hear things which i doesnt like.
like i always said,
u are the only one that could pick me up when i fall,
the only one that could make me fall,
the only one that had been running tru my mind every now&then.
place&ppl reminds me of you.
days back,
i dreamt of u,
dreamt of u pass-by me,
treat me as tho a stranger twice,
it seems so real...
i woke up immd &
text ur previous number telling you abt the dream but i noe u wont be seeing it cus tt number u no longer using.
ur presence still lingers.
i miss ur silly acts,
i miss being dote by u,
i miss crapping ard with u,
i miss those times whereby we play & fool ard like a kid,
i miss making breakfast for u,
i miss eating supper with u,
i miss ur companion,
i miss ur everything...
things wld nvr be the same,
i rather hear from u by someone elses,
i hope u're happier than before,
i would nvr wanna contact you nor intrude ur life.
thanks for everything... <3
had been insomnia,
perhaps ive think too much,
i always wonder how are u ?
did u take ur meals on time?
hows ur gastric?
hows everything?
if only things were as simple as ABC.
if only my determinations is strong...
if only clock could be unwind...
我走以后,你现在的生活,会不会也偶尔想起我???
是否真的要忘记,才能够放弃。。。
sometimes,
i should thanks u...
thanks u for being so heartless that i would become so protective against others.
i realised,
i couldnt love,
i couldnt find back the love i used to gave u,
i couldnt retrieve it back,
the only reason that i feel happy was browsing back our past memories,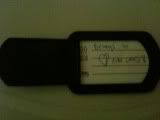 BELONGS TO XIAOLONG
remember this tag?
i remember vividly that u were having ur duty we were chatting over th phone,
u said u hv got a surprise for me,
and the following day, u gave it to me.
though is nothing special or exp,
but is the thoughts that count (:
it states
" BIBI i love u,060807"
how sweet, i miss those sweet precious times...
see,
though u are gone, but u're always beside me.
ur verythings everythings still with me,
diamond ring,couple ring,stuffed toys,gold chain,rose,clothes,havainas,
pictures,LV sling,burbery cardholder,ur clothes,ur everything...
by now i suppose u wld realised how much u stands in my heart.
i dont hv to tell,to say, but deep down within,
i knows u meant alot to me.
misses you lots...